Posted By: dean@deandrouillard.com
May 8th, 2014
About six weeks ago I somewhat reluctantly put this ad up on Craigslist. It's for a very cool guitar amp I've had around the lab for several years that doesn't always get the attention it deserves. The amplifier is made by Swart Amps in North Carolina. They are a boutique company of two (Michael Swart and Kelly Holsten) creating high quality amps for tone discerning guitarists. The Space Tone Reverb is a 5-Watt, Class A, hand-wired, point-to-point creation with tube driven spring reverb. I won't bother with what all that means because it's likely not all that interesting to you unless you're a guitarist/gear tech/nerd. I only mention this because it was through Craigslist where I first learned of Swart amplifiers and gained a real awareness of boutique amplifiers.
Though I'd never heard of them before, I came across an ad for another Swart amp that piqued my interest and lead me to their website, where I found the perfect amp for me for my current playing situation. On paper it seemed like a great amp to own – something not too loud, small'ish, fully tube with reverb. I was playing some quieter gigs regularly with my Fender Vibro Champ as my main amp (no slouch of an amp either) but liked the idea of the tube reverb and an amp built by someone I could communicate directly with, which I ultimately did after frying a tube and a capacitor (and diagnosed through emailed photos). There was only one dealer in Canada at the time – Boutique Tone in Montreal. They didn't have any in stock but the owner agreed to sell me his personal amp. I can't remember if he knew it or not at the time but upon looking at the inside of the amplifier I noticed the serial number was #001. The first one. I'm not normally one to care about things like that and I'm not sure how many of these amplifiers have been sold but that fact in and of itself has added some weight to the decision of keeping it around.
That's definitely not the only reason though. It turns out that this model has gone through several modifications over the years and mine is somewhat unique. Kelly Holsten, who runs the website, customer service and tests the amps wrote to me, "the wood on the first 30-35 amps was accidentally made in Birch without us knowing it.  We then moved to our usual pine cabs, which are a bit warmer and somewhat softer sounding. The GOOD thing about those birch cabs is they tended to sound more articulate and precise… The reverb and wiring was changed a bit later along with the addition of the hi/low gain switch.  The reverb in those early amps would sometimes be crazy surf style."
Kelly expressed interest in hearing what that original amp sounds like so I did up this little tune highlighting some of the amplifiers range of tones. Though there is a bit of percussion and a bass track, all of the other instruments are guitars going direct into the STR. The only exception is a fuzzed out Rickenbacker 12-string that achieves a distinctive tone with the addition of the Swart Atomic Boost treble booster pedal.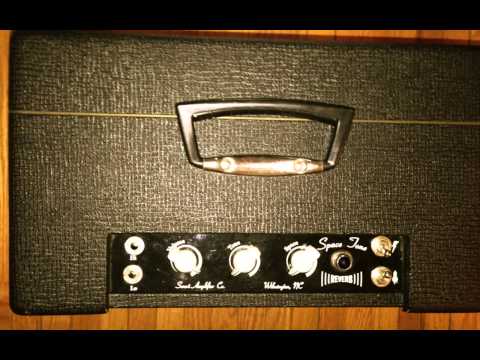 My ad for the amp includes a road case that I had built thinking I would tour with the amp regularly but ultimately it only went out on one theatre tour I did with Jill Barber several years ago. It also includes a leather cover and extra tubes. I recognize that it is a pretty specific subset of musicians interested in spending this kind of dough on a 5-watt amplifier which is likely why I've yet to receive a single inquiry about the amplifier. Oddly, I can't remember ever not receiving not even one inquiry into a piece of gear I've posted to sell. Oh well. For now the amp lives happily with me. After making the audio/slideshow highlighting the amp I realized I'm not really in any hurry to let it go.
Since acquiring my #001 Swart I have owned two more of their amplifiers. My Atomic Space Tone is my main touring amp and has appeared on many recordings.