New Royal Wood album – The Burning Bright
Posted By: dean@deandrouillard.com
On: March 14th, 2014
In summer of 2013 Royal Wood and I set out to make another record together. Though we've worked together on several of his past recordings as co-producers (We Were Born To Glory, The Waiting, Covers Sessions EP, The Lost and Found EP), this time he handed me the keys and split, literally. While I worked on the production of 10 new Royal songs, Royal simultaneously was recording many songs in Los Angeles with producer Bill Lefler. He wanted to do something different; he wanted to be surprised. So for the first time Royal took his hands off the console and let us try to surprise him. I'm sure it wasn't an easy thing to do having always had a major hand (sometimes the only hand) in the artistic outcome of his recordings. However, regardless of the producer he is the songwriter/singer/artist and played many instruments on all of these tracks. No matter what Bill or I would do it would ultimately still sound like Royal.
Over the years I have learned that Royal has a very clear idea when he is writing what he envisions his music ultimately sounding like. During the past several recordings it has been my role to both interpret and assist in bringing his vision to life as well as to add another sonic dimension, or simply ideas from an alternate perspective, whether they be about instrumentation, arrangement, tempo/key, approach etc. This is generally how the artist/producer relationship is understood in the studio. That doesn't mean conflicts won't ever arise however. If we were to always be on exactly the same page at all times there would be no point in having an additional producer around. But we have to be sensitive to hear each other out, recognize each other's strengths and know when it's important to stick to our guns. If anything Royal and my main fault might be that we can be too sensitive to each other.
The songs being recorded in L.A. were to be for an album and the ten songs I was working on in Toronto for an alternate album. We weren't really concerning ourselves with the how/why/where/when of the release of these tunes but I felt when I heard Royal's demos that these songs needed to be recorded immediately as they had a potency I worried might fade if they sat for too long. As for the approach of their presentation, I didn't want to hear the music that was being recorded in L.A. and I believe Bill felt the same way. We wouldn't want to be influenced by each other's work as these were to be two separate projects.
Royal and I spent a few days together at The Rogue in Toronto and Catherine North in Hamilton getting his guitars, piano, vocals down to serve as the bed tracks for me to work with before he departed for L.A.  So while Royal worked in the studio on the west coast, playing the majority of the instruments himself, I jumped from studio to studio recording horns, strings, percussion and background vocals while adding my own instrumentation in my home studio. After everything was recorded I mixed the tunes and sent them as they were near to completion to Royal for his thoughts. I have to admit, it was both exciting and nerve-racking to put my love and attention into these beautifully heart-breaking songs and then present them to him upon for critique. What if he hated it? He'd had no idea what treatment I was going to give to them and it was quite possible I could have gone in a direction he didn't like. Fortunately the surprise was also pleasant.
The majority of these songs are sitting patiently for an audiences ears to be released sometime in the hopefully-not-to-distant future. But four of them are presented on Royal's brand new record "The Burning Bright" (released March 18). City Lights, I Wish You Well, It's Only Love and I'm Afraid which were recorded in Toronto receive an alternate mix from producer/mixer Tim Abraham (who also mixed the L.A. songs) in order to present the album with some cohesion. I'm happy these songs are presented here amongst some of Royal's finest songs and recordings to date.
Here is a video of a performance of It's Only Love we did with the band at the CBC studios recently. You can watch the rest of the performances here.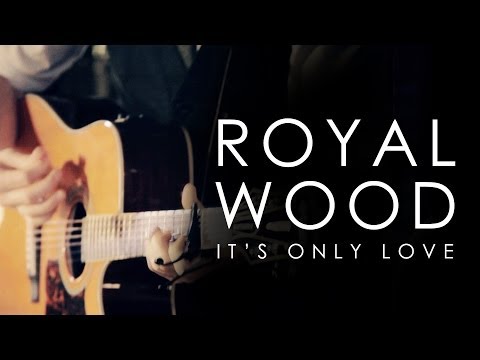 Comments